HOUSTON MARTIAL ARTS ACADEMY

© Houston Martial Arts Academy 2019
The Houston Martial Arts Academy ("HMAA") specializes in real life self-
defense training. We are dedicated to developing our members'
confidence and ability to defend any type of attack at any range. We also
make sure to have fun while we are training so that we actually enjoy
practicing the techniques, drills and concepts from the martial arts we
offer.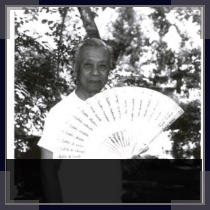 Grand Master Emeritus Giron with
the "Masters Fan" showing the 20
styles of Giron Arnis Escrima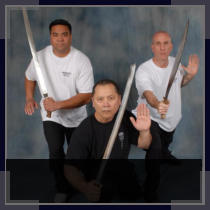 Grand Master Tony Somera with
Masters Kirk McCune and Joel
Juanitas

Leo M. Giron was a World War II veteran who fought with an elite unit of the United States Army
behind enemy lines in the Philippines and was awarded the Bronze Star medal amongst many
other citations. Grand Master Emeritus Giron designed his system to overcome a larger and
stronger opponent in life-or-death encounters. GME Giron's system of escrima contains many
ingenious exercises and strategies while remaining the essence of simplicity. We are proud to
carry on and honor his legacy through the teachings of Grand Master Tony Somera.

As a direct result of superior skill and devotion to the principles, philosophy and purpose of
Bahala Na Martial Arts combined with leadership and his master level Instructorship, Master
Tony Somera was promoted to the rank and responsibility of Grand Master by the late
Grand Master and founder of Bahala Na® Martial Arts Leo M. Giron. Grand Master Somera
promoted the art of Giron® Arnis Escrima along with its rich Filipino History and culture by
providing opportunities for students and community members to visit historic sites and learn
Filipino American history through bi-annual "affiliate camps" held in Stockton. Tony Somera
is the only person ever to be promoted to the rank of Master and then Grand Master by the
late Grand Master Emeritus Leo M. Giron.
Houston Martial Arts Academy was decreed as the home of "Bahala Na Houston" by Grand
Master Antonio Somera in January 2007. Since then, Bahala Na Houston has expanded.
There are four Affiliates in the Houston area; Guro Joe Galleon and Guro Jason Evans
(Bahala Na Houston) and Guro Andre Watson and Guro Rick Stalons (Bahala Na Spring).
Together they do their part in spreading the word and sharing the art of GME Giron and GM
Somera to the Houston Area through demonstrations, workshops and hosting Bahala
Na/Giron Arnis Escrima seminars.
Grand Master Emeritus Leo Giron's Teachers
Benito Junito

: Larga Mano & Fondo Fuerte
Fractuso Junio

: uncle of Benito Junio, Macabebe & shared the concept and differences between
old (cada-anan) and new (cabaroan) styles of Luzon.
Flaviano Vergara

: Estilo Elastico and presented GME with the Masters Fan.
Beningo Ramos

: Estilo Matador, Larga Mano, Miscla Contras, Tero Pisada, Tero Grave, and Elastico
Julian Bondoc

: Larga Mano & Hilot
Braulio Bolante

: Estilo Bolante