Galleon Clan Escrima

© Houston Martial Arts Academy 2016.
info@houstonmartialartsacademy.com
Made with MAGIX by Poobah Productions 2015






Galleon Clan Escrima is a classical style of Escrima that was passed down to Guro
Joe by his late father George D. Galleon, a Visayan Filipino from the Island of Leyte,
from the district of Massin, who immigrated to the United States in 1920 after serving
in the U.S Navy during WW1.
The Galleon Clan system of Escrima encompasses single blade/baston, double
blade/baston, single and double dagger, sword and dagger (espada y daga), staff
(sibat), empty hands striking, and ground fighting (dumong).
The techniques taught are the personal opinions and teaching that were passed down
from his father, George D. Galleon.


Background

Arnis, Kali, Escrima, Filipino Martial Arts
"For wisdom only comes through knowledge and experience from time in practice, sparring,
actual combat, and teaching." - Joe Galleon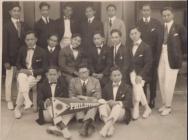 Due to their honorable service in the US Navy during WWI,
these Filipino soldiers were permitted to immigrate to the
USA after WWI. George D. Galleon is in the 2nd row, 3rd from the left.
Photo taken in 1919.
Contact Us at: info@houstonmartialartsacademy.com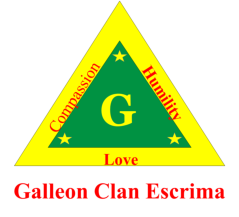 A book over the second subset: Double Sinawali of Galleon Clan Escrim is
currently in progress and will be published and available for purchase soon.
3803 Bute St Unit 6
Houston, TX 77006